Fitness : เครื่องออกกำลังกาย จักรยานนั่งปั่น
Code: BL-058D
เครื่องออกกำลังกาย จักรยานนั่งปั่น
เพิ่มความยืดหยุ่นของแขนและขา
ขนาด: 853 × 490 × 1305 mm
พื้นที่: ∅1000 × 2000 mm
สีภายนอก  ชนิดทนต่อการใช้งานภายนอก คงทนต่อทุกสภาพอากาศ
สีโพลีเอทเตอร์  ชนิดใช้ภายนอกเนื้อหนาสีสันคงทนต่อทุกสภาพอากาศ  ผสมสารป้องกันรังสียูวี  ลดการซีดจางจากแสงอาทิตย์
อุปกรณ์ต่อเชื่อม  น็อต สกรู สแตนเลสแท้
ท่อเหล็กกัลวาไนซ์  เนื้อหนา ระบบชุบกันสนิม 2 ครั้ง  ทำสี Powder Coating สำหรับภายนอก ทนทานกว่า
ชิ้นส่วนพลาสติก  ชนิดเกรด A เนื้อหนาแข็งแรงทนทาน
คำอธิบาย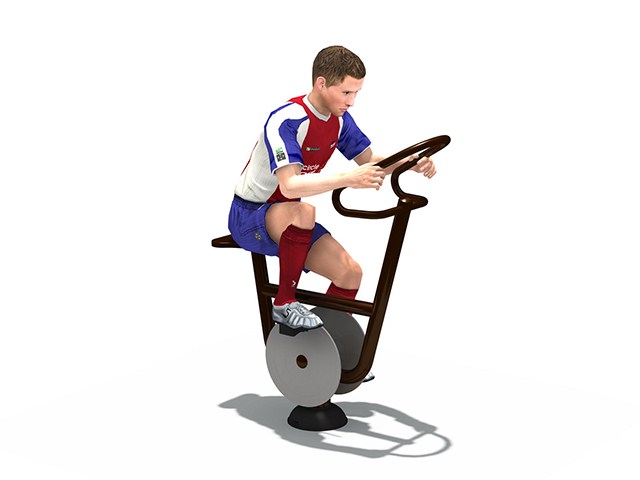 Code: BL-058D
Lower Limbs Warm up Trainer
Function: Increase flexibility & endurance of lower limbs.
Instructions:
Sit on the seat with both hands taking hold of grips, your knees bent and tread on footrests;
Push both feet around circular motion alternately to enhance workout;
Increase repeats as fitness improves.
Material
Upright Post: Ø114 Twice Hot-Dip Zinc Steel Tubes, thickness 2.75mm;
All spare parts are galvanized before welding or assembly;
Seats & Backrests: High Density Polyethylene or steel;
Screw: 304# Stainless Steel Bolts & Screw; twice Hot-dip Zinc Steel Tubes, and for every welding part, we will make the anti-rust process (galvanization).
Size: 853 × 490 × 1305 mm
Safety Area: ∅1000 × 2000 mm
To maintain longer-lasting for all the steel equipment, we already apply with twice hot-dipped zinc metal coating parts, and finished by electro-statically powder-coating for all the new design equipment, this is complete with highly recyclable materials, without PVC or lead utilized in the manufacturing process, electro-statically coating primer with super durable polyether top coating get rid of rust, corrosion and chipping problems. In addition, the building of heavy duty restrictors and dampers provide much safer and more valuable exercise, while self-lubricating bearings keep all the equipment on going working.
Super Durable Paints 
The application of super durable polyester power coating provides enhanced, light-stable pigments for superior UV stability and fades resistance.
Stainless Steel Hardware
All Bole equipment hardware is stainless steel to prevent rust and corrosion, which requires only basic wrenches for assembly.
Posts and Tubing
The cold-formed steel tubing provides high-shield, high-tensile strength and has an interior corrosion resistant coating. Our tubing undergo hot dipped zinc metal coating, chromate conversion coating, washed and sanitized before we apply a baked-on powder-coating for a strong molecular adhesion to all of our tubing, components, and posts.
Aluminum mold
To improved quality & enhance plastic parts, we newly introduced aluminum mold for all the rolling plastic parts production, which enhanced uniformity of plastic parts, and consequently improved quality. Meanwhile, the products rolled by aluminum mold provides smoother and glossier surface of plastic parts.